Surveillance Maps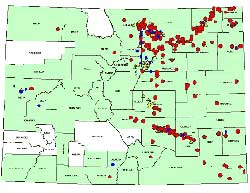 The West Nile virus is carried long distances by infected birds and then spread locally by mosquitoes that bite these infected birds. The mosquitoes can then pass the virus to humans and animals, primarily other birds and horses.
Health departments across Colorado and around the country are closely monitoring human and horse illnesses, testing dead birds, and monitoring mosquito breeding areas.
Your local health department may need you to bring in dead birds early in mosquito season to test the bird for West Nile virus.
Later in the season, some health departments may need to record the location of dead birds, but do not need the actual specimen for testing.
Call your local health department for more information. Click here for a list
US Surveillance Maps:
Humans, Birds, Horses, Mosquitoes
and Sentinel Chicken flocks
West Nile Information Pages (Colo.)

For more information call the toll-free
Colorado West Nile Virus HelpLine
1- 877- 462-2911
Open 7 a.m. to 11 p.m. daily

CDC West Nile Virus InfoLines
English: 1-888-246-2675
Español: 1-888-246-2857
Hearing-impaired TDD: 1-866-874-2646


PDF files can be viewed and printed with the free Adobe Acrobat Reader.