Farming and Industry
Agriculture, farming and livestock production is a $4.5 billion industry in Colorado. The industry has special needs for West Nile virus prevention including the protection of humans and animals from mosquitoes; the elimination of standing water caused by irrigation; pesticide use; and the prevention of mosquitoes around livestock areas including pens, watering holes and sewage lagoons.
Horses, chickens and other birds are at risk for West Nile virus disease, but there is no documentation of infection in pigs and sheep. See the horses page for tips.
For more information, contact the Colorado Department of Agriculture at 303-239-4161, your local agricultural extension service, your veterinarian or your local public health agency. (Links)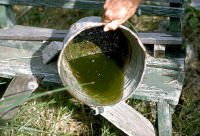 Links and more information:
• CSU Extension Service
• USDA horse information page
• CDC animal information
• Colorado State Health / Zoonosis page
• Colorado Department of Agriculture
• Colorado Agriculture links by County
• West Nile Information Pages (Colo.)
• Questions and Answers (CDC)
• Print a personal protection tip sheet
• Print a property maintenance checklist
• Pesticide Spraying in Colorado
• Statewide listing of commercial pesticide applicators licensed in Colorado
• Pesticides and Honey Bees


For more information call the toll-free
Colorado West Nile Virus HelpLine
1- 877- 462-2911
Open 7 a.m. to 11 p.m. daily

CDC West Nile Virus InfoLines
English: 1-888-246-2675
Español: 1-888-246-2857
Hearing-impaired: 1-866-874-2646


PDF files can be viewed and printed with the free Adobe Acrobat Reader.